publicplanet | Beat Music | Pacific Northwest
"The Pacific Northwest maybe isn't Detroit, LA, or Europe when it comes to electronic music. But I think we still turn out some excellent stuff that needs to get heard more and I'm proud to be part of that community."
| | | | |
| --- | --- | --- | --- |
| Style: | Beat Music | Production Tools | Korg PadKontrol 61 | Ableton Live |
| Favorite Original Track | 'Lama' | Favorite Film | Alien |
| Favorite Producer | Sabzi | Favorite Place to Visit | Lisbon |
| Favorite Artist | Lemon Jelly | Favorite track of 2011 | Flying Lotus – Vibeangel |
FRLGN: Thanks so much for giving your time to do this interview.
Evan: Yeah man no problem. I'm not all that busy right now anyway. I'm kind of in that midsummer slump.
FRLGN: For sure I feel you. Do you go to school in Portland?
Evan: Actually, up in Vancouver BC but due to some interesting circumstances I am here for this summer.
FRLGN: I see, cool. Well I'd like to start off by getting to know some of your background in music. Do you play instruments?
Evan: I have played guitar for about 9 years, and it's the instrument I am most fluent on. I'm also functional on mandolin, bass and banjo, but those instruments don't really play a part in most of my music.
FRLGN: Wow that's sick, I most producers have mainly piano/drums background rather than string instruments.
Evan: I played piano as a child, but dropped it for the guitar pretty early. Maybe it was a mistake, but I don't regret it.
FRLGN: You got to go with what feels right. Have u played in any bands?
Evan: In high school I had a laughably terrible rock band. I think we played like two gigs and then I had a group of kids I would jam with whatever instruments we could find: electric organ, bongos, that kind of stuff. Pretty slapdash stuff, really just playing around
FRLGN: Haha classic just dicking around in high school.
Evan: Totally. You have to go through that though. It's an education.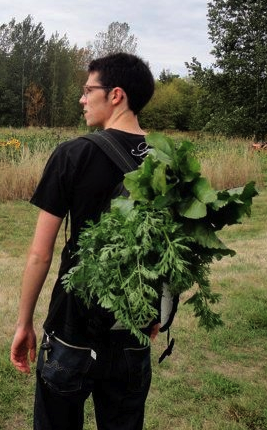 FRLGN: When it comes to making beats do you consider guitar to be what inspires them? Because right now im listening to 'RPMS' and I can kind of hear a guitar lead in there.
Evan: I think the fact that I use a lot of strong leads is probably due to being so attached to a lead instrument, but I don't start many beats using a guitar, or look for it in samples really. But because while I was younger I would listen to music for the guitar lines, that's present. Because first I was listening for guitar players, and then other lead players, and so all sorts of stuff like horn playing, violinists, different lead players, worked their way into my guitar playing. Which definitely feeds back into my melodic sensibilities as expressed in my production.
FRLGN: It's interesting you say that because producers like 9th, and Premo sample the hell out of things but lack a strong lead.
Evan: Yeah I have nothing but respect for that style of production, but listening to instrumentals from them or guys who go for that sound, it's like something is always missing.
FRLGN: Did any one producer or artist influence you the most to start producing?
Evan: Yeah at the time I started producing, probably around 2006, I was really into Seattle hip hop, and that was when blue scholars were first getting huge in the northwest.
So Sabzi's production was a huge influence around then.
FRLGN: Dope!
Evan: He blended samples and key leads in a way that few other producers can manage.
FRLGN: Sabzi. That's a new name to me but I'm going to have to check him and the blue scholars out.
Evan: Yeah I mean they have been like THE GUYS in Seattle for the last 5 or 6 years and when I got really into them, he was doing this style of production where he had this foundation of soul or kind of jazz samples but he would play these really intricate key parts on top of them. It sounded way bigger to me than a lot of hip hop production and I think at that time I wasn't really up on the subtleties of guys like 9th or Premo so it really appealed to me, having all that action in one track.
FRLGN: That's really cool to hear. When people say 'West Coast' they usually think of LA and sometimes the bay but I feel like Seattle and Portland get overlooked a lot of the time.
Evan: I think Portland probably deserves to get overlooked a lot, but there is a lot of really excellent stuff coming out of Seattle these days. It's not quite what I try for these days, but I definitely have a soft spot for the music that comes out of that scene.
FRLGN: For a while I feel like MPC's were the shit, then the midi pads were in but now production capabilities have gotten so crazy. Can you talk about your studio a little bit. Ex: Some of your favorite gear.
Evan: Like a lot of people I bring things in and out, but what it boils down to is MacBook pro, interface, a couple of mics that I use for field recordings and sometimes making drum sounds and recording guitars, and then pads. My standby has been a Korg PadKontrol (The 61), but I have been working with an MPK over the last few months. I also have a sampling turntable that I use when I dig vinyl, but it comes in and out.
FRLGN: That's a great controller. What DAW (Digital Audio Workstation) do you use?
Evan: Ableton. I got into it right away, back in 06 kind of randomly and I've been working with it long enough that it would be a huge bitch to switch.
FRLGN: I've been hearing great things about live but I still haven't gotten my hands on it. I know that it's the shit for sequencing but what about effects, and plug-ins. Is there a lot of freedom in sound editing in Ableton?
Evan: I think live, like most DAWs, can do pretty much anything if you want it to, but it's workflow favors certain things. It's got really simple warping so time stretching is extremely easy. It's also nice to be able to play through a beat live, rather than piece it together bit by bit. I like being able to try out different arrangements that way. As for effects, most of what it comes with is passable but kind of mediocre so plug-ins are pretty important.
FRLGN: You do have to say if you don't want to reveal too much, but what are some production techniques that you regularly use, ex: compressing and panning to get a full sound.
Evan: One of the things I do with samples pretty frequently, because I am lazy and because it's part of my process, is reversing and looping chords or the less hooky, not loop-able parts of samples. I use that to create sounds in the mid range. So rather than find washes of Rhodes chords or play that myself, many of my tracks start from these kind of sustained, drawn out bit's of samples mixed into an indistinct midrange wash. I use that as a foundation, upon which I build leads or other samples. I don't know if I have a good example of that on Soundcloud, but it's definitely something I do a lot.
FRLGN: Definitely. Have a solid foundation with effected sampled and then kind of do what feels right from there.
Evan: Yeah it's just like rather than looking for open strings or whatever
I'll just take a chunk of the whole track that has a chord progression I like and filter it to where I can work with it.
FRLGN: Speaking of samples. I'm listening to 'Autumn Leaves' and I think I hear Isley Brothers – 'Summer Breeze' in there. You sped it up right?
Evan: Surprisingly not! I actually played almost that entire track myself. The only samples in it are drums and the little ascending synth line. I don't do that very often, but I have a copy of Amplitube, which is guitar software. I was recording direct in, laid down some of the chords to 'Autumn Leaves' which is a classic jazz standard and then just starting dubbing on that.
FRLGN: Do you stick to mainly jazz for samples? You mentioned digging earlier so I assume you sample a lot of jazz vinyl.
Evan: I sample from a lot of different genres. As far as vinyl, jazz is mainly what I dig for because it's the most available on vinyl at reasonable prices. But I do e-dig for other stuff that I rarely run across on record particularly non-American music.
FRLGN: I actually want to write more about the evolution of digging. You know now we say 'digging in the crates' but I feel like one day it might be like 'digging in the external hard drives' you know what I mean? People store so original tracks, remixes, and bootlegs in their hard drives. The accessibility of music these days has made it possible for an average music listener to acquire tens of thousands of songs easily.
Evan: Yeah, I mean I definitely have gone to some crazy lengths when I heard samples. Obviously, I do dig in the crates; yes you have to do that, at the very least. But I also sample field recordings, Youtube videos, vinyl rip websites, video games; VHS tapes anything I can figure out a way to record.
FRLGN: I think vinyl give you a greater appreciation of a lot of different genres too. When people ask you what genre you music is what do you normally tell them.
Evan: I usually say something like beat music if they are at all knowledgeable about electronic music. I like that term, I think it fit's well for a variety of sounds including but not limited to Brainfeeder-type stuff.
FRLGN: Now that cats are constantly genre busting, do you have any predictions for electronic music in the next few years?
Evan: That's really hard, because it's going in all directions at once everywhere all the time. I think one of the biggest things is how dubstep has crossed over in the last few years as well as popular house as well. You are living in the future when Deadmau5 is on Top 40 radio in Vancouver.
Not that I listen to or make that kind of music, but I think people are more open to electronic music than ever before, and I think that we are in a really hopeful place, both for the reception and diversity of sounds being produced.
One more thing!
Have you ever seen the HBO show Treme?
It's about New Orleans post Katrina. Anyway, a blog for that show was talking about traditional vs. modern jazz.
They mentioned that something in the 50s and 60s, with bop, and eventually free jazz, jazz moved from being body music, something people danced to. Then, jazz and became head music and at the same time and became a niche genre. I think in electronic music, we have a really body-oriented style of music that is just now adding that "head music" component. My hope is that they exist in harmony.
FRLGN: Wow. You just blew my mind with that analysis but it makes sense! Check this. I've heard people compare this pop house era to the 70s disco era. Hip hop was born out of disco so we may be on the verge of another hip hop like culture revolution. I don't know; just a thought.
Evan: Yeah I think that is probably a fair analysis. During disco of course, the very beginning of house was happening with DJ edit's and Chicago stuff, but comparatively few people were hearing it. Disco was the popular stuff, and it's what people took on to make something new. So if Tiesto and shit are inspiring someone to make something new and out there, more power to them.
FRLGN: I feel it. There will be some great totally new stuff in our future.
Evan: I'm really optimistic.
FRLGN: Speaking about the future, where do you see yourself with music/production 5/10 years from now?
Evan: hmm that's a hard one. Well hopefully I'm still doing it, haha.
FRLGN: Hey, that's the truth.
Evan: But seriously? Up to this point for me. It's really been a learning experience. I've been doing this five years, but only now do I really feel like I'm doing anything worth trying to get out to people. I want to figure out how to play this stuff live (without just queuing it in a playlist), connect with other likeminded musicians, keep putting stuff out, and try to keep up with the ridiculous pace of technological and musical advancement.
FRLGN: I like that. Even on Soundcloud there so many artist, all trying for the same thing. TO GET HEARD. And all anyone can do is do their thing and be individual
Evan: For me, it's more about making the music I want to make and trying to build a supportive community with other people working along the same lines, rather than trying to claw my way to the top.
FRLGN: For sure I can dig it. A few more things then we can wrap up pretty soon.
Evan: Sure.
FRLGN: If you could collaborate with one person on a project who would you choose?
Evan: Just speaking musicians, I think my dream would be to reunite Lemon Jelly and become their third member. Have you ever heard those guys?
FRLGN: No tell me about them.
Evan: OK, well their music is maybe a bit dated now, but I like it for some of the same reasons I love 80s boogie–it's incredible precision and musicianship.
Anyway, Lemon Jelly was two dudes, an electronic duo in the beginning of the decade. They were kind of like a British version of the French band Air, but maybe less cute.
FRLGN: Haha.
Evan: Anyway, they did the samples + live instrumentation + spoken word stuff in a way that to my ears sounds really pure. It doesn't really have much in the way of drops or harsh bass or anything; it's just this perfect, complete musical object. Which is something only a small amount of electronic music achieves for me.
FRLGN: I'm listening to Lemon Jelly – Nice Weather for Ducks
Evan: You get what I'm saying?
FRLGN: Yea it's repetitive and effective. It kind of almost reminds me of Daft Punk in that sense.
Evan: Yeah Definitely. Lemon Jelly – '76 aka Stay With You. That's the track that I have come back to throughout the years. It's kind of like the Hall and Oates of electronic music. You know it's corny, and you feel kind of bad about liking it.
FRLGN: Dude I've never ever heard of these guys but I'm really digging their stuff.
Evan: It's just so smooth and perfectly executed. Anyway, would love to work with them they've been quiet for years.
FRLGN: Awesome dude. I think you'd compliment them well.
Evan: Hey thanks! They have been an enormous influence on me since I started producing.
FRLGN: Ok, so here are some quick one word answers ones:
FRLGN: Your favorite track of 2011:
Evan: That track Vibeangel off FlyLo's Soundcloud. Not really released yet, but it's been on repeat since I heard it.
FRLGN: Favorite film:
Evan: Alien
FRLGN: Hahahaha fasho.
Evan: Toss up between that an Aguirre. The movie where Klaus Kinski goes down the river with a raft full of monkeys.
FRLGN: Favorite place to visit:
Evan: Lisbon
FRLGN: Favorite track you produced:
Evan: This track called "Lama". It's on my bandcamp if you want the link.
FRLGN: Yea I'd love it.
Evan: http://tropic.bandcamp.com/album/yule-tracks-2010
This is stuff I've released as Tropic. It's a name I'm probably not using anymore buut it's all free music.
FRLGN: Oh nice, I didn't know you had another alias.
Evan: Yeah man. Actually if you could link both in your write up I'd appreciate it. The bandcamp is like, 100% finished stuff. The Soundcloud is kind of more works in progress.
FRLGN: Ok I'll definitely do that.
FRLGN: Your hero(es):
Evan: Django Reinhardt, Guy Debord, and Woody Guthrie
(musical and artistic heroes, anyway).
FRLGN: Do you have any gigs coming up that I can post?
Evan: No, I don't have anything lined up in the near future
FRLGN: Last Word:
Evan: The Pacific Northwest maybe isn't Detroit, LA, or Europe when it comes to electronic music. But I think we still turn out some excellent stuff that needs to get heard more and I'm proud to be part of that community.
FRLGN: That's what's up.
Thanks dude this was really great.
Evan: Yeah man I was good talking to you. I'll definitely be checking out your website, you've posted some great stuff on there.
Off the record:
FRLGN: thanks man. when i do the write up ill send it to you for your approval and it will be hosted here http://freeligionmusic.com/ and featured on my tumblr blog as well.
Evan: awesome
FRLGN: i have to develop content for the wordpress site but it's in the workds
Evan: what are your plans for Freeligion going forward?
FRLGN: i really want to keep doing this kind of of thing. interview artists who i feel have amazing talent and give them a spotlight and develop a worldwide community of electronic music lovers and fans
i also want to promote my own music as well
Evan: thats a fantastic goal
yeah for sure, you have some good stuff up
FRLGN: im really down to collab with anyone else whos down. i have a lot of ideas and i just want to share my music with people
i think far down the line id like to own a studio and produce and engineer records for artists
Evan: I hear that
oh nice yeah
okay I gotta go but before I do
what is one producer or musician I should check out? just pure word of mouth thing
FRLGN: i was actually going to show you this guy
ok
so this guy Henning is another dude im interviewing. hes from the netherlands and he got kind of like a nicolay style
http://henning.bandcamp.com/album/trunkfunk-series
so damn funky
Evan: oh man I just heard this talkbox
that is damn funky
FRLGN: yea! fuck um also check out the artists on frite nite records theyre in sf and absolutely killing it
Evan: alright I for sure will
FRLGN: ight peace bro, ill let you know when im done writing it up