Jasper Shelf | Hip Hop | Bay Area, CA
"Ice-T's, 'Power'…I must have listened to it every day back then."
| | | | |
| --- | --- | --- | --- |
| Style: | Hip Hop | Production Tools | MPC 5000 | Ableton Live |
| Favorite Original Track | 'Earth' | Favorite Film | Big Man Japan |
| Favorite Producer | Dilla | Favorite Place to Visit | Strip Clubs |
| Favorite Artist | MF Doom | Favorite track of 2011 | Rebecca Black – Friday |
FRLGN: Can you tell us a little but about how you got started producing?

LeadBrain: As a kid, after I got over my Pokemon cards and Nintendo 64, I started off playing the drum kit every chance I got. At first I was banging out a lot of rock music, but after I got into high school I was introduced to Jazz, which really opened me up to a world of music I'd never knew existed before. I remember this goofy kid back in my first year of high school showed me the first Hip/Hop track I was ever really in to. I think it was the Genius/Gza's, '4th Chamber'. In that one song I was hooked.I began collecting any and all hip-hop CD's, Records, and Tapes I could get my hands on. I would go to thrift stores and yard sales and my collection grew. The first Hip/Hop record I remember owning

was Ice-T's, 'Power'. The cover alone was the dopest thing I'd ever seen. I must have listened to it every day back then. Although I don't know how much I dig it anymore, it still deserves its place on the shelf. As my room became more and more difficult to walk through, due to the growing pile of records, tapes, CD's, and miscellaneous instruments, I began to teach my self, guitar, piano, and bass. When I bought my first keyboard, I was once again introduced to a new side of music that I had no idea existed. The keyboard, which I unfortunately can't remember the fate or brand of, allowed you to record and loop. After busting out a plethora of shitty tracks, I was fiend-ing for something more. I then started working with MPC's and Ableton Live. And thus began my production career.

FRLGN: People are constantly busting genres today. How would you describe your style?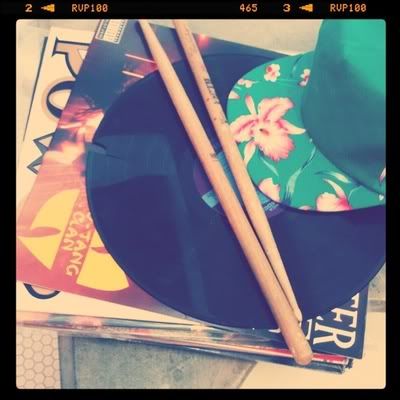 LeadBrain: I hate to classify my style because I have too many songs that could go under many different genres, but the tracks I threw up on my Soundcloud are mainly Hip-Hop influenced. I try to incorporate multiple genres into each track, but they derive from mainly soul, jazz, hip-hop, and funk sounds.

FRLGN: What artists/producers inspired you to first start making music?

LeadBrain: As a kid I was brought up listening to cassette tapes of Nirvana and Bowie, and even as I got older I was bumping The Kinks and T. Rex in my parents jalopy Volvo wagon. But it wasn't until high school that I really developed my own musical taste. After I joined the school jazz band and started to listen to more jazz and soul, music as a whole changed for me. There are too many artists and producers

that I've been influenced by to name them all, so I'll just throw down the main, obvious few. Dilla, of course, Dam-Funk, Ski Beatz, Doom, Hudson Mohawke, Miles Davis, Kool Keith, Madlib, Breakbot, J Rocc, Chuck Inglish, James Pants, Edan, Elaquent, and John Coltrane.

FRLGN: Do you DJ live often?

LeadBrain: I've done a few events recently, but I have a better time chopping and digging alone in my bat cave with a box of Hostess cupcakes and a tub of fried chicken.

FRLGN: Do you have a local club spot?

LeadBrain: No, nothing permanent.

FRLGN: In today's music business, there are so many production tools out there for novice and professionals alike. Tell us what your set up is like.
http://soundcloud.com/mclumpsdjsniff/
What are some of your favorite pieces of gear to use?

LeadBrain: I like to keep my set up simple, but my go to equipment usually is the MPC 5000, and Ableton Live.

FRLGN: I hear a lot of samples in your music especially old soul samples. Do you identify with producers like Pete Rock, 9th Wonder, Premo, etc.?

LeadBrain: I do sample old soul a lot, I feel like that's the shit that really gives personality to a track. I recently picked up three old soul compilation albums put out by this great record company, Rooky Ricardo's Records. Every track is gold. And yeah, Guys like 9th wonder and Pete Rock have mastered soul sampling. I've been especially down with 9th Wonder. The song he produced for Lil B recently called 'Base for your Face', was superb. But I think the guys killing it most right now on the

soul/funk sampling front, is the production team, Cookin' Soul. They have some dirty remixes.

FRLGN: How do you sample? Vinly? CDs? Tapes?LeadBrain: All three.

FRLGN: I see you follow some great disco/house/funk acts on Soundcloud like The Swiss, Siriusmo, and Breakbot. You must like artists that reach back in time to previous eras for their musical inspiration.

LeadBrain: As well as hip-hop and Jazz, I listen to and produce a lot of disco and funk. It's great to hear that old school sound of groups like Cloud One, The Jungle Band, and Midnight Star with a modern twist from guys like Breakbot, Kavinsky, Kartell, and The Swiss.

FRLGN: If you had the opportunity to collaborate with
any artist, who would you choose?

LeadBrain: There's too many, but I'd have to go with Doom. He's one of the first rappers I really got in to and is easily one of the realest human beings to walk the face of the earth. I've had many a daydream of kicking back in the studio with him.

FRLGN: You live in Egypt correct? Tell us about Egypt's funk/electronic music scene.

LeadBrain: Unfortunately, I do not live in Egypt. I was born and raised right outside of San Francisco. Apologies for the let down.

FRLGN: Do you have any predictions about the direction electronic music will go in the next few years?

LeadBrain: To me, though it goes both ways, the more available equipment is to any old person is a

step in the wrong direction for music as a whole. But then again, if any old fool didn't have access to this equipment, I would be popping funyuns in front of my TV 24/7, instead of on my MPC.

FRLGN: What are some values stay true to in life and when making music?

LeadBrain: I feel like music and my daily life are in a way one. There's never a moment where I am not writing lyrics or ideas for tracks down. I guess in life I try not to make such a big deal out of everything, and in my music I try to translate that by just letting what happens, happen. I'll sit down, usually with no idea what's to come, beat some chords out on my piano and just let the track unfold from there. Music to me has become something of a necessity, like eating or drinking. I've got to do it to survive.

-Stay Free.