idletide | ChillStep | Fort Collins, CO
"I try my hardest to create from the heart/soul rather than thinking too much."
| | | | |
| --- | --- | --- | --- |
| Style: | ChillStep | Production Tools | Ableton, a keyboard with knobs, a good sounds system |
| Favorite Original Track | Two Doors Cinema Club – What You Know (idletide Remix) | Favorite Film | Mr. Nobody |
| Favorite Producer | Nit Grit | Favorite Place to Visit | Beaches of Latin America |
| Favorite Artist | Portugal the Man | Favorite track of 2011 | Benny Benassi – Cinema (Skrillex Remix) |
FRLGN: To start us off, can you tell us a little but about yourself? What is your name? How old are you and where are you from?
idletide: Mose Cagen – 26 – Fort Collins, CO
FRLGN: When did you first start making music, and what artists/producers inspired you to first start making music?
idletide: I have been involved w/ music my whole life. My parents always felt it was important so I grew up playing the piano and then later the Sax, but didn't play any instruments all through High School and College. Just started producing music back in November 2010 after going to Burning Man and being absolutely floored at the electronic music scene there. It is something I have always wanted to do, but never had the money/time until the past year.
FRLGN: People are constantly busting genres today. How would you describe your style?
idletide: Right now I would describe it as a chilled out dubstep with super melodic flowing vocal manipulations.
FRLGN: You've proclaimed your style to be 'SmoothStep' and 'ChillStep.' How did you think of those categories?
idletide: SmoothStep just kind of came to me, it seemed to fit with the sax sound. I had seen ChillStep mentioned a few times before and like the sound of it and felt it was the closest way to put a genre on my own music.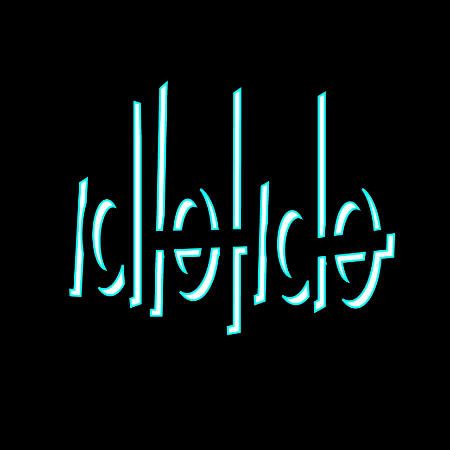 FRLGN: Are there any other artists you can recommend that may fall into 'SmoothStep' or 'ChillStep?'
idletide: Solitude's ambient dubstep is sick and super chilled out, Blackmill has been a huge influence on me.
FRLGN: Dubstep dates back to the late nineties when it was born out of experimental drum n' bass in London. Do you listen to any early dubstep out of that era?
idletide: Not really. I was never too into drum and bass. Too much drum for me, but as things started to morph, I became more interested. Some of the first few artists i got into include Vibesquad and Glitch Mob, both of which I really don't listen to very much anymore as my tastes have changed a bit since then.
FRLGN: I think you really know we are in another era when Dubstep has the type of exposure as it does today. I mean even that Britney Spears song 'Hold it Against Me' has a strong house beat with a dubstep-ish breakdown.
idletide: Yea, it is interesting. I think the music industry will continue to morph and change at an ever faster pace. especially with tools like tumblr and soundcloud to easily get the good shit out there.
FRLGN: In today's music business, there are so many production tools out there for novice and professionals alike. Tell us what your set up is like. What are some of your favorite pieces of gear to use?
idletide: I keep it simple and just have an Akai MPK49 right now. But it has the keys, beat pad, and knobs/sliders so at this point I really don't need much more. I would like to mess around with an apc40 at some point though. I will add equipment as i progress and grow out of my current setup. But instead of putting my money into a bunch of crazy controllers, I decided to buy a nice set of monitors and a sub with a soundcard to ensure i have high quality sound to work with, otherwise, in my opinion it doesn't matter what equipment you have.
FRLGN: What DAW do you use?
idletide: Ableton.
FRLGN: Any analog gear?
idletide: Nope, I have a buddy who brings his Nord over every once in a while and we mess around together with that. The track i am wrapping up right now features my buddy on guitar.
FRLGN: Let's touch on your sound a little bit. Right now I'm listening to 'Everything feels better' which I absolutely love! It has dubstep styling but such a deep and soulful feeling as well. Were you trying to achieve something specific or did it just happen?
idletide: I definitely did have a concept of that song before writing it. I knew I wanted to incorporate Dubstep and the sax together and with my brother being an amazing sax player, i just let him write his own part and it flowed naturally into the electronic music i had produced for him to lay it down over.
FRLGN: When you start a new project, do you usually have an idea in mind? Or do you just try something and see how it sounds and go from there?
idletide: Lately I have been doing remixes. So i find something that sounds cool and is something I feel I have a personal connection to. Then I usually take the vocal stem and start there and just let the process lead me where it takes me.
FRLGN: I can definitely hear either virtual synths in your music and/or outboard keyboard sounds. But do you also sample?
idletide: I use primarily virtual synths, but i do like to sample here and there just to give it a bit of flavor.
FRLGN: How do you sample? Vinly? CDs? Tapes?
idletide: I have a massive bank of samples that i typically pull from on my computer, but i have also sampled from youtube.
FRLGN: What are your favorite types of music to sample from?
idletide: I really haven't sampled from music at all at this point. Mostly just using specific sample sounds or manipulating the stems from the song I am remixing.
FRLGN: Can I ask you a little bit about your track 'Famous?' I think this song shows your range. You can mellow out but you can also bring some heavy bass and grime as well. Were you going for a more 'classic' dubstep sound?
idletide: Yes, definitely just going for some straight up dubstep, but at this point I have decided to move away from that because there are so many amazing artists that are already doing it really well and who will only get better. I decided it was best for me not to try to emulate others too much but instead, just make music that I really like.
FRLGN: Have you had any EP or album releases yet? If so where can listeners find your releases?
idletide: Nope. Gotta build up some base tracks and an audience first
we will see if i got that route at all. At this point i really like the soundcloud format of just releasing a song as it is completed.
FRLGN: Do you have any releases lined up in the near future?
idletide: Yes, just finishing up a remix of Foster the People – Helena Beat for a remix competition.
FRLGN: Can you tell us about electronic music in Fort Collins and in all of Colorado?
idletide: It is pretty big here. We get a lot of great acts coming through Fort Collins as well as Denver. Pretty Lights is actually from Fort Collins so i have definitely had some success to look up to.
FRLGN: Do you think people are starting to open up a little bit more to different styles of electronic music?
idletide: Definitely, especially the younger crowds. Finally!!!! I was always ridiculed back in the day for liking "techno" but it has gotten so good that people can't turn their backs on it anymore.
FRLGN: Which producers and artists do you aspire to be like?
idletide: I don't really aspire to be like anyone but myself but I really look up to anyone doing anything new and innovative: Nit Grit, Nastynasty, Eoto, Skrillex, Blackmill, Helicopter Showdown, and many more!
FRLGN: If you had the opportunity to collaborate with any artist, whom would you choose?
idletide: Hmmm, that is a tough one. It would probably have to be Blackmill.
FRLGN: Do you have any predictions about the direction electronic music will go in the next few years?
idletide: Nope, I think anything can happen! I think it will continue to grow in popularity though.
FRLGN: What are some values stay true to in life and when making music?
idletide: Well I never force myself to make music. I only make it when i am inspired to do so. I also try my hardest to create from the heart/soul rather than thinking too much.
FRLGN: For all of the listeners out there, where is the best place to find your music?
idletide: Soundcloud. But i try to put it all on youtube and facebook as well.
FRLGN: Finally, if you have anything else to share with your fans, feel free to say anything you want!
idletide: I just appreciate all the support. It gives me energy to know there are people out there who really want to hear my stuff. Makes me want to keep making more! so thanks!
#STAYFREE