Henning | Modern Funk and Hip Hop | Arnhem, Netherlands
"When i'm in the studio making beats, I got 3 ways to end up with something: Either i'll make a banger or something weird, or it's going to be a funk beat. And why? Because the world needs some good funkin', always…"

Style:
Hip-Hop Modern-funk
Production Tools
DAW: Sony Acid Pro 7, UAD Plugins, MIDI Controller/Keyboard, Preamps, Mics, & The Microkorg
Favorite Original Track
Glock from "Trunkfunk Series"
Favorite Film
N/A
Favorite Producer
George Clinton
Quincy Jones
Pete Rock
Favorite Place to Visit
Antwerp
Favorite Artist
Herbie Hancock
Favorite track of 2011
Reks – This or That
WEB | www.henningmuziek.nl
Twitter | http://twitter.com/HenningIA
Bandcamp | http://henning.bandcamp.com/
FRLGN: To start us off, can you tell us a little but about how yourself? What is your name? How old are you and where are you from?
Henning: My name is Henning, I'm 24 and i come from a place called Arnhem, the Netherlands. I'm currently still living there.
FRLGN: When did you first start making music, and what artists/producers inspired you to first start making music?
Henning: Earth Wind & Fire, Jamiroquai, The Prodigy & Wu Tang Clan. Because those were the first people I heard of and saw on TV that triggered me somehow, other than some crap top40 B.S. at the time.
FRLGN: People are constantly busting genres today. How would you describe your style?
Henning: It's the feeling when a nice girl is checkin' you out while walking with her boyfriend. The feeling of wearing fresh gear for the first time. The feeling of drinking a 40th of some fine liquor and not get hammered the next day. On some cool shit..
FRLGN: Do you DJ live often?
Henning: I'm the DJ for a Dutch MC called Freez. We're both in this collective called: Fakkelteitgroep. It's a group of Dutch artists, all with a different style but sharing the same idea about what's quality. When I had the choice between buying a turntable set or a synthesizer, I picked the synth and
focused on making beats. In other words, its still on my to-do list to master the skills DJ-ing.
FRLGN: In today's music business, there are so many production tools out there for novice and professionals alike. Tell us what your set up is like. What are some of your favorite pieces of gear to use?
Henning: I made all my music on a PC with an external soundcard, a USB keyboard. Mixing it with some budget Alesis monitors. The MicroKorg is definitely the powerhouse in my setup.
FRLGN: I hear a lot of samples in your music especially old soul samples. Do you identify with producers like Pete Rock, 9th Wonder, Premo, etc.?
Henning: Yeah that's where I hopped in. I can recall listening to Soul Survivor or The Chronic and thinking these people where genius playing all those instruments. Until I heard the originals I didn't get what sampling was about but it opened my musical horizon and when you listen close to people like, for example: Pete Rock or J-Dilla you can say it is an serious art form on its own in my opinion.
FRLGN: How do you sample? Vinly? CDs? Tapes?
Henning: In the past I did sample from a few tapes because of the typical tape sound it had but I didn't have that much tapes so I left it at that. Some songs I've made contain samples i took from vinyl and I'm still gonna do that. I love cratediggin' and i do it on a regular base. Not only for the samples but I think vinyl is the best way to carry music, sonically & physical.
The thing is that like 80 percent of the beats I've made contain MP3 samples, it sounds contradicting but I always process the sound through some plugins or a pre-amp.
And i know what people say about using MP3's but if you make it not sound like a crappy MP3 sample beat, well what's the problem then?
FRLGN: Can I ask you a little bit about your track Nightlife? I definitely hear samples in there in a 9th Wonder or Nicolay style. Do you like sampling or producing original tracks more?
Henning: I learned the basics of beatmaking by sampling other beats like a mix between 2 loops in a very limited looping program called The Tuareg. Next I began to search for my own samples from "the originals". As I develop a simple drumloop with some samples I began to add basslines or something like that. After some years I switched to Sony Acid Pro with more recording options. From then on I always mixed samples with played parts. Nowadays I always try to put a sample in a mainly originally composed beat just to give it that little bit "extra" presence. But in the end it's a balance. My style is to combine both.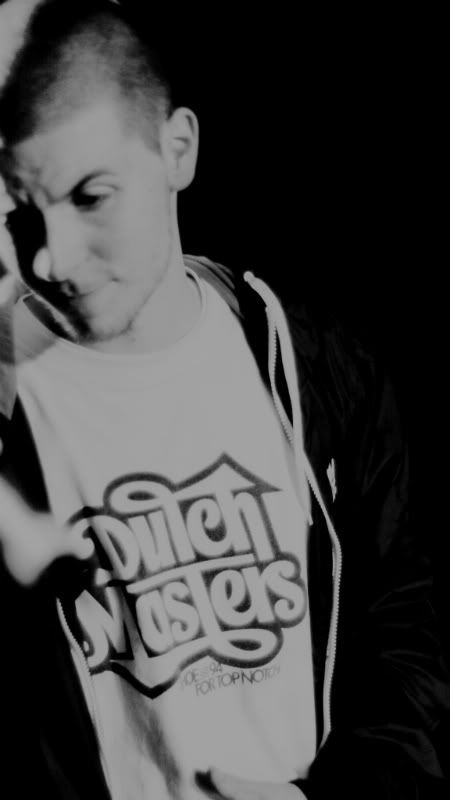 FRLGN: Nightlife has a different feel than your tracks with a distinct lead and a heavy synth bass like Glock. Did you style develop from your Dejima EP to Trunk Funk?
Henning: Dejima EP was more versatile in a way that I chose a couple of tracks for it that would portray my mind state at the time and release it as an EP. For example the track Endless Space has a funk/boogie feel to it but the rest has a rather different sound. With Trunkfunk Series I'm zooming in on the funk aspect. Just trying out some new things, finding my own way with it.
FRLGN: Dejima to me has an emotional feel to it. It sounds like you are being honest through your music. Trunk Funk sound more raw and uncut 'straight up funk!'
Henning: Yup!
FRLGN: To me you have some similar sound qualities as producer Nicolay. Is he a big influence of yours?
Henning: To be honest, I haven't heard much Nicolay's productions. So… he really isn't. The story to his success however is inspiring to me. In that way he is some sort of influence to me.
FRLGN: Can you tell us about modern funk and electronic soul music in Arnhem and in the Nethlands?
Henning: There's a bunch of talented cats over here man, yall need to check that out sometime. In Arnhem there is this dude called: Jeejaa. He's fam but we always try to compete or inspire to go even further when we check each others latest productions. Check: http://www.jeejaa.bandcamp.com
FRLGN: When did you first start playing the talk box? And who inspired you to do so?
Henning: Somewhere around 2010 I think. It's got to be Roger Troutman on "California Love". I never got what he was doing but it sounded tight. Until I saw some video where Battlecat was recording the Talkbox, I understood what I had to search for at the local music store.
FRLGN: Which producers and artists do you aspire to be like?
Henning: Quincy Jones & Michael Jackson and Dr Dre & Snoop Dogg. When those people went in the studio together they made magic/classic albums.
FRLGN: G-funk music ruled the west coast in the 90s but now we are hearing music produced in 2011 sounding like update G-funk all over the world. Why do you make this funk music and why now?
Henning: When i'm in the studio making beats, I got 3 ways to end up with something: Either i'll make a banger or something weird, or it's going to be a funk beat. And why? Because the world needs some good funkin', always…
FRLGN: If you had the opportunity to collaborate with any artist, who would you choose?
Henning: Check: "Jamie Lidell – What's The Use" Among others.
FRLGN: Do you have any predictions about the direction electronic music will go in the next few years?
Henning: I really don't know, maybe independent artists will compete with major labels on a more balanced level because of the internet. There might be more platforms for quality music that will be as important as the labels where before the internet age. platforms that will brand music in a way like: this is good music because they want it to be heard, not saying it's good music to make you buy it, while it isn't.
FRLGN: What are some values stay true to in life and when making music?
Henning: Be Thankful, Don't value yourself above or beneath another person and DO YOU.
FRLGN: For all of the listeners out there, where is the best place to find your music?
Henning: Check out http://www.henning.bandcamp.com for new music and follow me on Twitter: @HenningIA
FRLGN: If you have any gigs coming up please let us know when.
Henning: Will do. This year no gigs outside the Netherlands, yet…
FRLGN: Finally, if you have anything else to share with your fans, feel free to say anything you want!
Henning: Keep an eye out for some new stuff and here is some old…